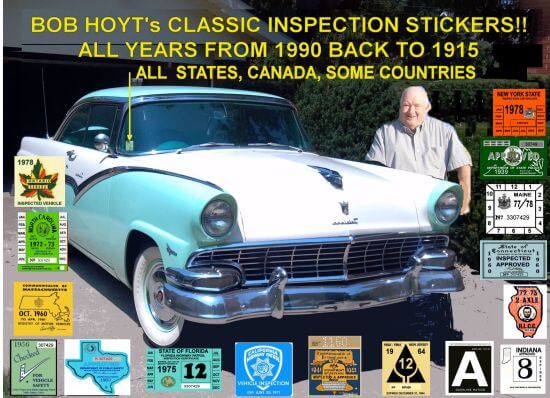 A VETERAN OWNED AND OPERATED BUSINESS
Robert Hoyt's Classic Windshield Stickers
CAR SHOWS WE WILL BE ATTENDING IN 2023
Muscle Car and Corvette Nationals (MCACN)
Rosemont Convvention Center, Chicago Nov 17-19
Email Us: Bob74b@msn.com
Phone: 708-567-5380
The X's that you see on the stickers WILL NOT BE ON YOURS!
We are now also offering vintage vacation stickers from past era's. Look under Vintage Vacation stickers. If you have one that you would like us to recreate send us an e-mail or give us a call.
We are now carrying a number of different "Plate Toppers" from WWII until the 1960's and maybe a little later. Call for more info and watch our site.
Over 2000 stickers in stock. Our inspection stickers are reproduced close to the originals both front and back, in size and color (Some fonts may be different). They have our peel and stick format which allows the sticker to be placed on the inside window of your classic, (except some CA and Hawaii went outside, we recommend putting them inside). Custom designs are also available. Can't find it, We'll make it . We GUARANTEE your satisfaction !
To order with any credit card, register your email address and create a password. Look for the stickers you want and add them to your cart. To check out, click on the PayPal button and watch for the drop down menu to use your favorite credit card OR You can choose to send a personal check.
LAST UPDATED March 6th, 2023
Our stickers are being sold by independant agents in Massachusetts, NJ, Texas, Pennsylvania, Illinois and Indiana.
If you meet someone selling stickers at a car show be sure they are our stickers, there are some bad fakes out there especially in NY that do not have backs. Our reps will tell you if they are ours. Ask to see the backs.
To see stickers for your state, or our logo stickers, racing tracks or WW2 selection, simply click on the state or folder and then the year you are interested in, it will come up and allow you to purchase the sticker with your credit card, Pay Pal or send check or money order.
Our system uses PayPal because it is secure and safe. You do NOT need to have a PayPal account to make a purchase. To pay with your credit card, click on Pay Pal and follow the prompts.
Send us a check or give us a call. Our phone lines are pretty busy but if you need to, leave us your number and we'll return your call shortly.
Our instruction sheet will tell you where the sticker goes on your window. The fronts are replicas of the original. In some cases we use a generic back when we were unable to obtain the original. We do not show the backs of the stickers on this site to prevent stealing and copying images.
WANTED: STICKER IMAGES NOT SHOWN ON THIS SITE.
WE will pay CASH for any original windshield inspection or registration sticker. We are looking for collections to purchase. Simply call us and then mail us an original in any condition.
MUST DATE BEFORE 2000. We do not reproduce any stickers if they have a copyright insignia on them.
---
You can click on your state to find when they began inspections;
If you choose to send a check or money order, for payment, send payment to
Robert Hoyt
10103 S. Kean Ave
Palos Hills, IL 60465
(708) 567-5380
DO NOT FORGET TO ADD $3.00 SHIPPING
Thank you for visiting our site.